What It Is: Miley Cyrus and Liam Hemsworth are engaged!!!  Miley told "People" magazine, "I'm so happy to be engaged and look forward to a life of happiness with Liam."  After getting well-wishes from her Twitter followers, she replied, "Thank you for all the love today :)  I'm happy to share this news with you all.  I feel like all my dreams are coming true.  Have a great day."  Miley's dad Billy Ray Cyrus Tweeted,  "All I ever hoped for as a Daddy was to see my kids reach their dreams.  To find happiness... peace of mind... and someday know... true love."  Miley met Liam on the set of her movie "The Last Song" in 2009.  At the time, he was pretty much an unknown.  Now he plays Gale in the"Hunger Games" movies, and he's in "The Expendables 2", which hits theaters in August.  Miley is 19, Liam is 22.  His older brother Chris Hemsworth plays Thor.   The ring, the juiciest part of all!!!  A 3.5-carat cushion-cut diamond ring, handcrafted in 18-karat gold with a center stone dating back to the late 19th century."  There's no word how much it cost, but a so-called "jeweler to the stars" estimates that it's worth around $100,000.  
What It Is: This Saturday, Nike will begin selling their new Air Yeezy 2 shoes, which were designed by Kanye West!  If you're able to get your hands on a pair at the store, they'll run you $245.  But they're going for A LOT more online.  In one online auction, the price skyrocketed to $90,300.  For ONE PAIR.  You can find a link to that auction, here.  That's SO outrageous!  Maybe there's something super special about the $90,000 pair, but I'm not seeing it.  Here are some other pictures.)  (TMZ)
What It Is: Lil Wayne tells AllHipHop.com that he suffered a separated shoulder in a skateboarding accident four weeks ago.  He says,  "I didn't go to rehab.  It hurts like [eff] . . . my [shoulder] is really tender to the touch, I can't even let no one touch it."  Here's a video of him talking about it.  You can skip to the 50-second mark.  WARNING:  It's UNCENSORED.
What It Is: Ryan Gosling attended his mother's college graduation . . . and he brought his girlfriend Eva Mendes with him. 
What It Is: Bobbi Kristina will not get in trouble for allegedly gambling underage in Las Vegas last month.  Authorities say there wasn't enough evidence to charge her.  (Full Story)
What It Is: Kris Humphries NEW chic looks JUST like Kim Kardashian!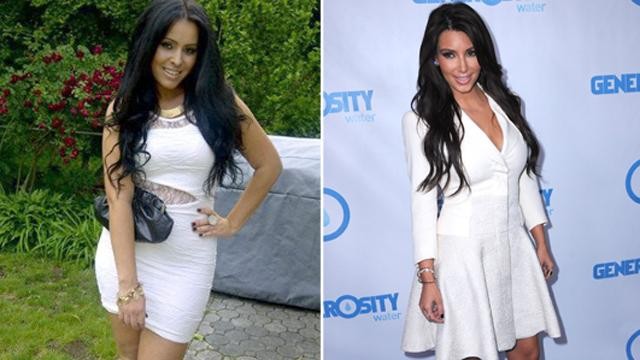 What It Is with Estee
Kanye West design sneakers to sell for $90,000 & Miley Cyrus Enagaged
Lil Wayne skateboard injured & Jay Z and Beyonce vacations with Chris Martin of Coldplay and Gwyneth Paltrow
Carmen Call